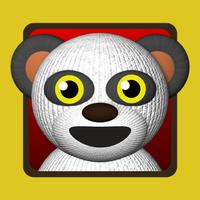 Talking Teddy
Free Get
Talking Teddy Description
"I've tried Carl, I've tried Tom, but Teddy is by far the most entertaining Talking app on the App Store... The virtual pet game makes it unique, and with all the different pets and customization options, it's like having ten Talking apps in one."
-slidetoplay.com
__________________________

Teddy is a talking, fully customizable, virtual pet that lives in your iPhone. He greets you with an infectious laugh, and if you speak into the microphone he'll carry on a conversation with you in his squeaky little teddy bear voice. Take good care of him, and you'll unlock new bears and items, and earn Game Center awards.

Talking Teddy is provided free of charge and ad-free; the only revenue for this app comes from in-app purchases of additional game money, although you also earn money simply by playing the app regularly. Please disable in-app purchases on your device if you do not want this feature to be accessible.


FEATURES:
__________________________

HE TALKS!
-Speak into the microphone, and Teddy will talk back
-Touch his mouth or snap your fingers and he'll repeat the last thing he said
-Shake him or tickle his belly, and Teddy will laugh out loud
IPOD USERS- mic required, do not plug/unplug while app is running

VIRTUAL PET!
-Talking Teddy is not just another 'talking' app, it's also a game
-Keep Teddy happy by playing with him every day; as long as he stays happy, you earn money; if you ignore Teddy for more than a day, he'll become unhappy, and you lose the money you would have earned
-Use money to unlock new bears, parts and items in the virtual store

FULLY CUSTOMIZABLE!
-Not just one, but NINE unique pets to be unlocked, including Polar Bear, Brown Bear, Black Bear, Panda and Koala
-Customize with different parts, clothes, accessories, toys and wallpapers; there are hundreds of thousands of unique combinations!
-Tap the body, head, eyes, hand, or background to swap items, or shake your phone for a random mix; when you find a pet you like, just click the lock button to save it

GAME CENTER AND FACEBOOK!
-Earn Game Center achievements by unlocking certain combinations of items
-Awards include: Angel, Artist, Beach Bum, Businessman,Chef, Coffee House, Croc Hunter, Desperado, M.V.P, Native, Patriot, Princess, Rock Star, Soldier, Samurai, Santa's Helper, Student, Viking
-Post awards directly to your Facebook wall
-Take pictures of your Teddybear, and share with your friends

Talking Teddy is sure to entertain both young and old alike. Adopt him today!
_________________________

If you enjoy my application, please help support an independent developer by giving me a positive rating or review on the app store, or by making an in-app purchase. Your support keeps the updates coming :)

You may also enjoy some of my other talking pets:
• Toy Monkey: a more complex virtual pet that you must feed and play games with to keep happy and healthy
• Talking Toys: a simpler app intended for younger players; includes eight different talking stuffed animals
• Talking Robot: a talking machine with lots of crazy controls, including frequency shifting, autotuning, looping, and more!
Talking Teddy 2.0 Update
Updating for iOS7 and new devices
More