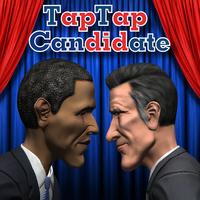 Tap Tap Candidate
Free Get
Tap Tap Candidate Description
Tap Tap Candidate

Select either Barack Obama or Mitt Romney, the 2012 Election Candidates, and tap them to cycle through high-quality 3D animations.

★★★ DANCE MODE ★★★

The candidate will dance in several styles including:

✔ Macarena
✔ Thriller
✔ Swing
✔ Samba
✔ Ballet
✔ Jazz
✔ Disco

★★★ FABULOUS MODE ★★★

Turn Obama or Romney simply fabulous!

✔ Super Model Walk
✔ Sassy Slap
✔ Ballet
✔ Joyful Jump

★★★ FIGHT MODE ★★★

Spar with your candidate:

✔ See him throw a backflip and a string of uppercuts
✔ Knock him out by landing the right sequence of blows

★★★ SHARING ★★★

✔ Share with friends via Facebook or Twitter

Enjoy hours of fun and laughter with your favorite candidate!

For more information, visit the Robamney accompanying site at http://robamney.com.