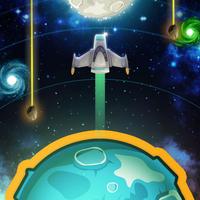 Tap the Planet - save the astronauts lost in space!
Free Get
Screenshots for iPhone
More Screenshots for iPad
Tap the Planet - save the astronauts lost in space! Description
A puzzle game thats OUT OF THIS WORLD! Literally! Tap the Planet is a space game with vibrant, gorgeous visuals and original single-tap puzzle gameplay.

Rescue astronauts drifting in space with your space ship. Navigate it by well-timed gravity leaps and orbit jumps.

BE WARNED though, don't be fooled by the colourful visuals, only great puzzle solvers with sharp wits will be able to solve all the levels and rescue the astronauts drifting in space.

Tap the planets and guide your spaceship on a fantastic journey through space and time while saving astronauts drifting in the void of space.

The game features -
* Deadly Asteroid Belts
* Shifty Worm Holes
* Unstable Suns
* Falling Meteors
* Mesmerising Nebulae
* Space Stations

and of course our poor little astronauts who's only hope is you!

The game mechanics are simple. You navigate your space ship by tapping on PLANETS! to perform gravity jumps from one planets orbit into another.

Can you save all the astronauts? Play now for FREE!