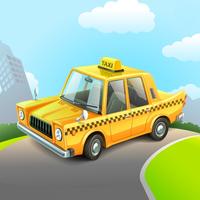 Taxi Tycoon ND
$0.99
Screenshots for iPhone
More Screenshots for iPad
Taxi Tycoon ND Description
Taxi Tycoon ND (Night and Day) is a taxi passenger transport tycoon game. Start building your transport empire by creating taxi routes between as many cites as possible. You can freely build the road network and create traffic lights in order to have a better control of your traffic.

The player's company is responsible for connecting service centers to gas stations and connecting these to other cities. This will facilitate the transportation of passengers on the taxis, as the taxis require fuel and servicing. Purchase a variety of taxi models, based on their fuel type and consumption. Update your gas station's fuel supply to unlock newer vehicle models. Each taxi route can accommodate a maximum of eight connections. You can build up to 30 taxi stations and vehicles per game. At any time, you can upgrade your taxi stations, in order to accommodate more passengers. Moreover, you can sell used vehicles to buy new and even more advanced ones.

Your vehicles fuel up automatically if a road connection is available to the central gas station. But, at some point your vehicles will have to be serviced. You will have to send them to a service center (go to service), otherwise breakdowns will occur more frequently, eventually resulting in the loss of your vehicle. Road cracks also appear sometimes causing damage to your cars, so keep your roads maintained and clear of cracks.

Key game features:
- transport passengers between taxi stations
- a variety of taxi models
- upgrade stations to large taxi hubs
- upgrade gas station to offer different fuel types
- beautiful night and day graphics, automatic or manual settings
- build road network freely
- NO IN APP options
- build traffic lights to each junction
- automatic breakdown generation
- automatic road crack generation
- various demolishing tools

The developer's notes:
If you liked the game, please provide us with feedback or a review and rate the game. We value your feedback as it helps us improve the features for future games. as well so you all are welcome to request a new game feature.
Thanks guys- hope you enjoy Taxi Tycoon ND as much as I enjoyed creating it for you!