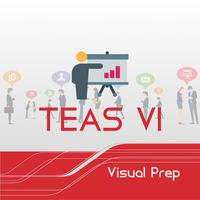 TEAS VI, Visual Prep
$19.99
Screenshots for iPhone
More Screenshots for iPad
TEAS VI, Visual Prep Description
ATI TEAS 6 Visual Prep
Recently Updated
-----
ATI TEAS 6 Contents are recently updated based on official curriculums.

The ATI TEAS 6 test is an assessment that is used to analyze a student's knowledge and abilities, and then determine how well suited they are for nursing programs. Many college nursing programs require their applicants to take the ATI TEAS 6 test in order to determine which students to accept. This means that success on the test is vital. Many students can benefit from an ATI TEAS 6 practice test. It can help them improve upon the skills needed in order to pass the four part ATI TEAS 6 test. The four parts of the test include: Math; Science; Reading; as well as English and Language Usage (all of which need to be completed within the 209 minute time limit). We have crafted an independent ATI TEAS 6 practice test for each one of these sections. With the aid of these tests, the test-taker is sure to improve their skills and have a better chance of passing the ATI TEAS 6 test.

Visual Prep Provides you three learning options.
* Visual Mode
* Training Mode
* Student Mode

Learn, Train and Pass your exam on the first attempt, Visual Prep Passing rate is more than 98%

App Features:
----
* Latest Update
* Three Learning Modes
* Verified Contents
* Save/Bookmark Unlimited Questions
* Lifetime Updates FREE
* Test Taking Strategy
* Testing Log
* Review Your Exam
* Friendly Interface
* Works without Internet Connection
* Dynamic and Static Content Updates FREE
* Trusted by Industry Professionals
----

LEGAL NOTICE:
WE ARE NOT affiliated with any testing agency, certificate, test name or any trademark.
All Trademarks are the property of respected trademark owners.
TEAS VI, Visual Prep 1.0 Update