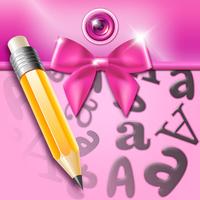 Text on Pics: Photo Write Editor & Selfie Captions
Free Get
Screenshots for iPhone
More Screenshots for iPad
Text on Pics: Photo Write Editor & Selfie Captions Description
Embellish every pic with your own words and cherish memories in a classy way. Text on Pics gives you an opportunity to add words with beautiful fonts to your favorite photos so that you never forget the moment they were taken. If you would rather edit pictures by typing some phrases, sayings, quotes or simply some notes then you've found the right app. It is very easy to use, with a clean user interface and some awesome features carefully created for your needs. You can write whatever you like, keep the edited pic for yourself or send it to someone to evoke memories. This is a perfect chance to be creative so download the app right away and have fun!

** ** ** ** ** ** ** ** ** ** ** ** ** ** ** ** **

** Interesting and stylish design
** Amazing fonts, cute colors and effects for your caption
** Change color of text, scale it, put outline, shadow or change opacity
** Write some inspirational or love quotes on photos
** Share edited pics on social networks
** Add love messages, dates or song lyrics
** Fun and entertaining photo editor
** Decorate your photos in a special way

** ** ** ** ** ** ** ** ** ** ** ** ** ** ** ** **

We give you a perfect way to show someone how much you care – make a personalized card with birthday wishes, love quotes or motivational sayings in a matter of seconds. Choose some pic that you like, caption it by writing something that's on your mind, decorate your letters with many colors or shades and you are ready to surprise that special someone. Pictures edited with this app will live forever in your memory! There are so many ways to put a smile on the face of your girlfriend, boyfriend, mother or brother but this is by far the most creative one. The best app to be imaginative has finally arrived!

** ** ** ** ** ** ** ** ** ** ** ** ** ** ** ** **

You have probably always wanted to write some words on photos, create your album with captions or collection of photos with love quotes – now you have a chance to do all of this and even more! It's time to show your creativity and share it with the world. This is the best photo writer you can find because it will make your photos unique. Professional typography is just a tap away. Make fascinating images with meaningful phrases that will amaze everyone. Share your edited pics on social networks to let others see what an artist you can be. No need to wait – download now and enjoy your creations!