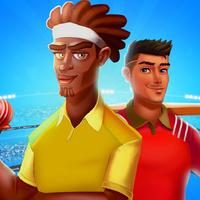 TG Premier League
Free Get
TG Premier League Description
"In the air, Sreesanth takes the catch! India win! Unbelievable scenes here at Wanderers!"

These were the words uttered by the commentators when the finals of ICC World Twenty20, 2007 held at Johannesburg. It was the day when Arch rivals India took on Pakistan and lifted its first Twenty20 world cup. This moment turned into one of the most unforgettable moments in the history of cricket. This moment was cherished by millions of Indians. Since the 20th century, Cricket has been the part and parcel of the Indian culture and people would never slip an opportunity to watch cricket. Cricket has inspired into Indians irrespective of their demographics. Now, you have an opportunity to realise your cricket dream with "TG Premier League"

TG Premier League is an online multiplayer mobile cricket strategy game. In the game, you can become the owner of a team, buy and sell players, train them, improve their skills, play practice matches, compete your team with your friends and relatives. The more you train the team, the better the chance of winning the game and winners will be awarded with prize money. There is also a universal leader board and top players will be ranked on the leaderboard! Who knows! You can be also there among the top, just install and play the game!
TG Premier League 2.4.4 Update