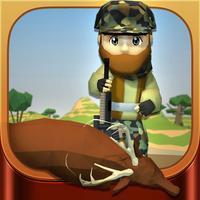 The Deer Hunting 2018
Not Available
Removed
from the App Store
The Deer Hunting 2018 Description
The game consists of a campaign, a type of training in which you have various interesting tasks to solve.
You on the first level have a sword, the task is to collect all the coins on the map, then you get the following weapons, a pistol, which is much more effective than sword. At the next level when collecting coins, collecting ammunition, trying to win trophy, the most beautiful decoration of a deer, its horns. Each of the following levels get better weapons and more deer, which are now becoming hostile, from escape and withdrawal deers go to attack. When you have all the weapons at your disposal and when you have enough horns, you have successfully completed training.
You're ready for real hunting. We're switching to multiplayer gaming. Compete in Kentucky meadow or Indiana forest.
Try to beat other hunters and first win as many deer as possible, so that your name is on the top of leaderboard.
The deers are mammals that are widely distributed. The two main groups are the Cervinae, including the muntjac, the fallow deerand the chital, and the Capreolinae, including the elk, reindeer (caribou), the Western roe deer, and the moose. Some species are solitary, and most live in groups. These are harems, where a male gathers several females, produces offspring with them, and does not tolerate the presence of another male, with whom he comes to fight when the mating season.
We love animals and let the need for hunting remains in this game. Save the animals!