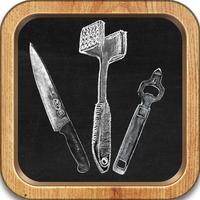 The Kitchen School - Quizzes + Jokes
Free Get
Screenshots for iPhone
More Screenshots for iPad
The Kitchen School - Quizzes + Jokes Description
Become a master chef today with a utensil education!
Can you identify a pizza shovel? A non-metal spatula? Or how about a ricer?
"What would you use to effectively measure the heat of liquid in the kitchen?"
'Into the Kitchen' is a unique kitchen tutorial app about utensils and cooking.

Enjoy hand drawn chalk art in two available quizzes that test your knowledge of identifying kitchen gadgets and your knowledge of what a specific utensil is designed for.

This fabulous new app 'Into the Kitchen' has a library of fun, kid-friendly food jokes!
Since laughter is the best medicine next to food, here's one for you:
"What's the worst thing about being an octopus?"
(Washing your hands before dinner!) Baa haa ha!!

Use this app as a training tool for children before they go into the kitchen to prepare food, giving both you, the caretaker, and the child much needed confidence & knowledge.
Play solo or as a group.
Play to teach or to be entertained.
Play if you are young or have a few years of living experience.
Great app for all ages!

Features:
- Utensil identification quiz; different every time you play
- 'Which is the best?' quiz that tests your kitchen knowledge: different every time you play
- Choose between 10 Questions, 25 Questions, 100 Questions for both quizzes
- Lovely cafe music to get you into the cooking spirit
- Unique old school chalkboard drawings beautifully hand-crafted
- 100+ hilarious kid-friendly food jokes!
- Available on all iOS devices in portrait mode

'Into the Kitchen' is designed to educate and inform all ages about kitchen utensils and the art of food preparation in the kitchen.
Familiarize yourself and become knowledgeable about what kitchen tool is used for specific purposes.

We at Bullroar Productions believe the kitchen is the heart of the home. Preparing and sharing meals is not only a healthy lifestyle but also aids in social, emotional, and intellectual development. Enjoy the freedom of eating at a table knowing that food, family and love are all intertwined.
We are a family start-up bringing back a family legacy from the 1960's & 70's aiming to inspire the cooking artist in all of us!

Find us on Instagram & Facebook under the name: bullroarproductions
Post a selfie with #intothekitchen if you love the app!

Thank you for downloading. Enjoy.

A few notable words from the greats:
"Food is our common ground, a universal experience." - James Beard
"James Beard was an American cookbook author, teacher, syndicated columnist and television personality. Beard was a champion of American cuisine who taught and mentored generations of professional chefs and food enthusiasts."

"You learn to cook so that you don't have to be a slave to recipes. You get what's in season and you know what to do with it." - Julia Child
Julia Child was a noted French Chef that pioneered cooking shows & books. She is recognized for bringing French cuisine to the American public with her debut cookbook, Mastering the Art of French Cooking, and her subsequent television programs, the most notable of which was The French Chef, which premiered in 1963.
The Kitchen School - Quizzes + Jokes 1.2 Update