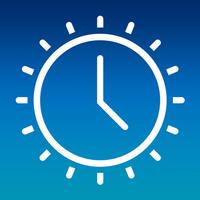 The ReApply Reminder
Free Get
The ReApply Reminder Description
More than 2,000 Australians are treated for skin cancer everyday, typically because they forget to apply sunscreen. So Vitality Brands have created the ReApply Reminder, a Smart Sunscreen Bottle and iOS App that reminds you when to ReApply Sunscreen, so you'll never get burnt again.

The ReApply Reminder app connects your Smart Sunscreen Bottle with your phone. Then once you open the lid to apply sunscreen, the app automatically analyses your current locations' Weather data and UV Index information to determine exactly when you should next reapply, by pro-actively adjusting the countdown timer to send you a "Reminder" to ReApply, before you get burnt.

The ReApply Reminder App also works perfectly without the Smart Sunscreen Bottle, with an easy to use manual mode that allows you to start the countdown timer at the tap of a button, while still getting the "Smart" reminder algorithm working to remind you when to ReApply based off current weather conditions.

If you would like to know more please visit our contact page. Have fun enjoying your time in the sun safely.
The ReApply Reminder 1.1.0 Update
- Performance optimisations
- Minor bug fixes
More