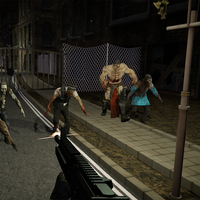 The Unknown City (Episode 1)
Free Get
The Unknown City (Episode 1) Description
The Unknown City is a First Person Shooter game series based on a Horror Theme wrapped inside a gripping story along with amazing effects with a climax that will leave the players wanting to play next episodes of this series. The Story starts with two cops going to their headquarters in rainy night. They lost their way and reach haunted city with so many doubts in their mind.

Features
-Story Based Gameplay.
-Choice of different weapons in the game. (Shotgun, Assault Rifle, Sniper, MG42, etc) (Only 2 Weapons are available in Free Version).
-Player can Upgrade weapon using the inventory system.
-Game is divided into 3 Levels. Player has to play all the levels to complete the game. (Free Version Offers part of Level 1, Upgrade to Unlock all the Features)
-Player have to kill various zombies, monsters in the game and save kidnapped cop from monster. (Kidnapped girl cop is wife of other cop)
-Player's interest & Game complexity increases as game move forward.
-Score system used in the Game.
-Game is suitable for mature audiences only.
-Tested successfullly on iMac, MacBook, Mac Mini.
-Controls for the game are :
W- Move Forward
A- Move Left
S-Move Backward
D-Move Right
Space- Jump
Left Shift - Run
Left Mouse Button - Shoot
Right Mouse Button - Zoom Sniper
Mouse Scroll - Switch Weapon
I - Weapon Invetory
Escape - Pause Menu
-Ratings & Feedback Appreciated.
The Unknown City (Episode 1) 1.0 Update