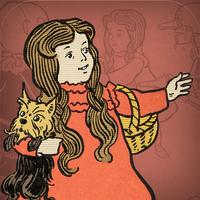 The Wizard of Oz Interactive Children's Book
$3.99
The Wizard of Oz Interactive Children's Book Description
- TOP 100 STUNNING iPAD APP - Apps Magazine
- 4.5 / 5 Stars - "...it makes me feel like I'm reading a magical book from a library that existed long ago." - AppAdvice.com
- "...The Wonderful Wizard of Oz, in an inviting, and more importantly, enjoyable, way." - RazorianFly.com
- 4.5 / 5 Stars - "...this book comes alive and makes it an intriguing read for both kids and adults alike." - TouchReviews.net

- Experience the story of The Wonderful Wizard of Oz like never before!
- OZ is a remarkable re-working of the original book by L. Frank Baum.
- Carefully abridged to stay true to the original text, with 112 beautiful pages.
- Featuring the original illustrations of W.W. Denslow, digitally remastered and brought to life with stunning effect.
- Children and adults alike can immerse themselves in the adventures of Dorothy and her friends.
- The clever use of the physics engine combined with the tilt and touch features of the iPad let you take part in the story.

- With over 25 interactive and dynamic pages, including:

- Free the Scarecrow (ragdoll) from his pole
- Oil the Tin Woodman to free his limbs
- See the Lion quiver as Dorothy tells him off
- Stop the Kalidah's in their tracks
- Watch as the Wicked Witch of the West melts away
- Put the Tin Woodman back together
- Reveal the true identity of the Wizard of Oz
- Give the Tin Woodman his heart
- Give the Lion his courage
- Give the Scarecrow his brains
- Interact and play sounds with the HammerHeads
- Send Dorothy home to Kansas

and much more...
The Wizard of Oz Interactive Children's Book 1.7.6 Update
Updated screenshots.
More