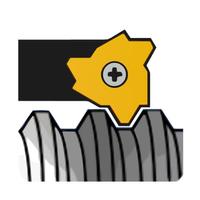 Thread Data
$1.99
Thread Data Description
This application provides the user with detailed information about standard Screw Threads in both metric and imperial values.

Data includes a pictorial representation of the thread form, thread angles, depth of thread, height of thread, thread pitch, radius and crest sizes, major,minor and effective diameters, recommended tapping drill sizes and clearance drill sizes.

Simply double tap the screen to view the thread picker.
Select the thread form standard from the following options:-

BA,
BSW,
BSF,
Metric Coarse,
Metric Fine,
UNC,
UNF,
UNEF,
BSP,
BSPT,
NPT,

Select the thread size of interest from the available standard sizes.

The application will display the relevant thread data for screw cutting or thread milling, and the recommended drilling size for tapping operations.

Use the slider control to adjust the drill diameter to an available sized drill in metric, imperial or gauge standard, and see the corresponding effect on thread engagement, or select a desired thread engagement and see the drilling size recommended.

Toggle between metric and imperial results.

Swipe gestures simplify paging through the different threads.

Simple additional information on each thread standard is provided.

The drill standard tab allows the selection of gauge or imperial fractional drills, and shows the corresponding metric equivalent.

Ideally suited to Engineers, Machinist, Inspectors, Hobbyists, Apprentices, Designers and students of engineering, or others needing to drill and tap, thread mill or screw cut, the application provides convenient reference data without having to resort to an engineering handbook or manual.

Future releases will add more thread types and sizes, as well as further functionality to enhance the product.

Suggestions for improvement are gratefully received using the inbuilt report function.
Thread Data 2.1 Update
Updated code and UI for the latest version of IOS.
More