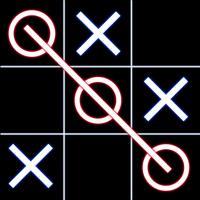 Tic Tac Toe Glowing
Free Get
Screenshots for iPhone
More Screenshots for iPad
Tic Tac Toe Glowing Description
Tic-tac-toe (also known as noughts and crosses or Xs and Os) is a paper-and-pencil game for two players, X and O, who take turns marking the spaces in a 3×3 grid. The player who succeeds in placing three of their marks in a horizontal, vertical, or diagonal row wins the game.

Plan Ahead And Beat The ios At Tic Tac Toe glow, The Fun And Addictive Game. There Are Different Levels, From Beginner To Expert. You probably already know how to play Tic-Tac-Toe. Tic Tac Toe New - It's a really simple game, right? That's what most people think. But if you really wrap your brain around it, you'll discover that Tic-Tac-Toe isn't quite as simple as you think! Tic-Tac -Toe (along with a lot of other games) involves looking ahead and trying to figure out what the person playing against you might do next.

Features:
- Single and 2 player mode (iPhone and human)
- Tic tac toe with unlimited difficulty levels
- glow effects, neon effects
- one of the best puzzle game in the world.
- different themes (game skins)
- game statistics
- Great graphics and exciting sound effects
- Configurable player names and score tracking
- Automatic save when you get a phone call or exit the application
- Play against iPhone X
- It's free!!!

Download free tic tac toe game with unlimited numbers of levels.
The levels are depend on your grid board & goals. So there are so many levels as below.
- tic tac toe 3 in a row
- tic tac toe 4 in a row
- tic tac toe 5 in a row
- tic tac toe 6 in a row
- tic tac toe 7 in a row
- tic tac toe 8 in a row
- tic tac toe n in a row

This is the tic tac toe less mb. offline game. Play this puzzle game play with friends. it is the tic tac toe real. use your tic tac toe tricks here. this is the tic tac toe vs ios.
Tic Tac Toe Glowing 1.0 Update