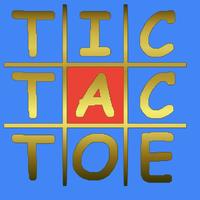 Tic Tac Toe Gold
Free Get
Tic Tac Toe Gold Description
Tic Tac Toe Game.

Tic-tac-toe (also known as Noughts and crosses or Xs and Os) is a paper-and-pencil game for two players, X and O, who take turns marking the spaces in a 3×3 grid. The player who succeeds in placing three of their marks in a horizontal, vertical, or diagonal row wins the game.

Players soon discover that best play from both parties leads to a draw. Hence, Tic-tac-toe is most often played by young children.

Because of the simplicity of Tic-tac-toe, it is often used as a pedagogical tool for teaching the concepts of good sportsmanship.
Tic Tac Toe Gold 1.5 Update
Thank you for updating! We added support for iPhone X. We made some minor changes and bug fixes.
If you enjoy using Tic Tac Toe Gold, please rate us and review us. It really helps other users find our app. if you have any comments or questions, please email support@iroyalapps.com
We love to hear what you think!
More