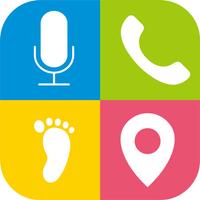 TICKTALK
Free Get
TICKTALK Description
Description

The TickTalk is a wearable phone and locator for kids 4-12 years old, the parents can call, send text or voice message and locate kids right from their phones after set up this APP.
The TickTalk uses GPS+LBS+WIFI to provide the accurate location information for indoors and outdoors. Parents can get closer to your child and keep your child safe and active.

After set up the TickTalk APP you can:
COMMUNICATE
- Call a TickTalk from your smart phone.
- Two-way communication between your phone and the TickTalk.
- Pick up the call from the TickTalk.
- Send text or voice messages to the TickTalk from your smart phone.
- Receive voice messages from the TickTalk.
LOCATE
- Check the current location of the child wearing the TickTalk.
- Check the history locations of your child.
STEPS
- Parents can set a daily walking step as a task to encourage the child to finish.
SOS
- If your child is in trouble, they can press the SOS button on the TickTalk for 3 seconds or touch the icon on the screen to call the preset SOS number. All Contacts will also receive a notification from the TickTalk APP.
FIREWALL
- When the Firewall is On, the TickTalk can receive or make a phone call from the preset Contacts only.
TICKTALK 1.1.7 Update
1.Added the setup instruction pages
2.Solved some bugs
More