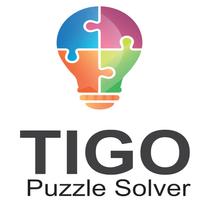 TIGO Puzzle Solver Lite
Not Available
Removed
from the App Store
TIGO Puzzle Solver Lite Description
Kid-friendly TIGO Puzzle Solver is a ONE-OF-A-KIND app on App Store that is a really easy to play math puzzle game that has ONE objective:

Help kids of ALL ages get better at ADDITION, SUBTRACTION, and DIVISION!

How do you solve a TIGO math puzzle?

TIGO math puzzle has 2 parts: the equation and the solution.

The equation is made up of 4 numbers and each number is either added, subtracted, or multiplied with another. For instance, if you have a math equation that contains the numbers 1,2,3 and 4 with and a solution of 9, the correct answer for the equation would be (3*2)+4-1.

Sounds effects and animated graphics make TIGO fun to play. Keep track of how you're doing with the integrated SCOREBOARD that shows how you're doing with your current play time as well as how you've done overall.

GIVE TIGO A TRY! No matter your age... You'll LOVE it!

Let me know of your ideas on future enhancements to make! I'm all EARS!
TIGO Puzzle Solver Lite 2.0 Update
Removed need for logging in to keep a running total of how well you're doing.
Added Flash Cards for SUBTRACTION to go along with the ADDITION and MULTIPLICATION Flash Cards added previously.
Reworked the look and feel of all the screens.
Cleaned up a few bugs.
Got the code ready to do more... and coming soon!
More