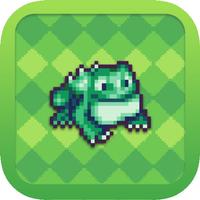 Tippy Tap Froggy - Don't step the Water
Free Get
Tippy Tap Froggy - Don't step the Water Description
Very funny and addictive Game based on the Guitar Hero Game Mode.

Check out Tippy Tap Froggy – Don't step the Water!
You will love it!

HOW TO PLAY TIPPY TAP FROGGY
1.) Start the Game
2.) Choose one of the three game modes (different difficulty)
3.) Step on the next Grass Tile to start the game.
4.) Always Step the next Grass Tile – don't step the water!
5.) Try to master the three different Tippy Tap Froggy game modes!

COOL FEATURES OF TIPPY TAP FROGGY
* Cool design
* Challenging game play
* Easy to play, hard to master!
* Leaderboards, try to beat your friends!
* Social Sharing – show the world that you are awesome at playing Tippy Tap Froggy

GAME MODES
* ENDLESS RUN
This game mode is for the pros out there! But watch out, don't step the Water only the Grass Tiles! The game starts quite slow but will get faster and faster. How long can you go? Compare your score on the leaderboard with the score of other gamers.

* TIME RUN
How long do you need to get through the Tippy Tap Froggy World? Try to get faster every time you try.

* DISTANCE RUN
You have got 30 seconds time. How many Grass Tiles can you master within this time? Compare your results with other players!

WHAT ARE YOU WAITING FOR?
Download Tippy Tap Froggy and show off your skill and awesomeness!
Tippy Tap Froggy - Don't step the Water 1.0 Update