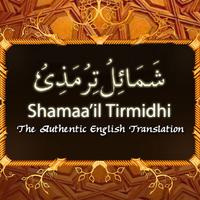 Tirmidhi
$1.99
Screenshots for iPhone
More Screenshots for iPad
Tirmidhi Description
Shamaa'il Muhammadiyya which is often referred to as Shamaail Al-Tirmidhi or simply Shmaail is a collection of Hadith compiled by the Ninth century Muslim scholar Abū 'Īsá Muḥammad ibn 'Īsá Al-Tirmidhi. This app contains this collection of Hadiths in their certified and authentic English translation. You can view Hadiths by specific chapters, search for a particular Hadith, take notes for a Hadith for future reference, bookmark any of them as favorite for future reading, and share them from the App through email, FaceBook and Twitter.

Features:
•Ability to set a reminder to read a random Hadith daily. It alerts you on set time with Hadith of the Day.
•Ability to swipe back and forth to read next, or previous Hadith.
•Ability to perform a full text search which not only shows you the records but also highlights your searched text.
•Ability to read Hadiths on topic of your interest.
•Ease of reading through the whole book like a hard copy.
•Ability to take notes for a particular Hadith for future reference.
•Ability to bookmark Hadiths to keep track of your last read Hadith so you can simply go to that Hadith and continue from there.
•Ease of maintain favorites list by marking any Hadith as favorite.
•Integration with Facebook, Twitter & email to share Hadith with your friends and family.


About Tirmidhi:
Abū 'Īsá Muḥammad ibn 'Īsá Al-Tirmidhi wrote al-Jāmi' al-ṣaḥīḥ, popularly called Sunan al-Tirmidhi, one of the six canonical hadith compilations used in Sunni Islam. He was born and died in Bâgh (Persian meaning 'Garden'), a suburb of Termez, Greater Khorasan (now in Uzbekistan), to a family of the widespread Banū Sulaym tribe. Starting at the age of twenty, he travelled widely, to Kufa, Basra and the Hijaz, seeking out knowledge from, among others, Qutaybah ibn Sa'id, Muhammad al-Bukhari, Muslim Nishapuri and Abu Dawud.
Tirmidhī was blind in the last two years of his life, said to have been the consequence of his weeping over the death of Bukhārī. Tirmidhi is buried in Sherobod, 60 kilometers north of Termez. He is locally known as Isa Termizi or Termiz Baba (Father of Termez City).

Our Upcoming Islamic Apps ON APP STORE:
Sunan Abu-Dawud
Malik's Muwatta
Sunan Ibn Majah

If you notice any bug in the app please send information to hadithbooks@gmail.com. Suggestions and queries are also welcome. Thanks!
Tirmidhi 1.0.1 Update
Thanks for using this application! To make our app better for you, we bring updates to the App Store regularly.
Every update of our app includes improvements for speed and reliability. As new features become available, we'll highlight those for you in the app.
More