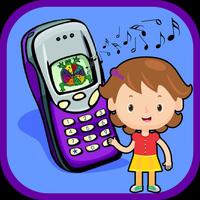 Toddler Toy Phone Learning - Preschool Activities
Free Get
Toddler Toy Phone Learning - Preschool Activities Description
"Toddler phone" is an engrossing educational game for young children. The app will help parents turn the ordinary smartphone into an entertaining and exciting children's toy. The young player will be introduced various animals and their best sounds, while taking the opportunity to learn numbers and play a fun button-hitting game.
Features and advantages of the game:
- The game presents 20 different animals, both domestic and wild, along with the sounds they produce for the toddler to learn and appreciate. The appearance of animals is introduced by a bunch of funny pictures, while their sounds can always be heard on the other end of the line. Communication with animals helps to develop kid's interpersonal skills and curiosity.
- The simple game will help your child learn the numbers, which it furnishes in bright and colorful buttons and addicting games.
- The opportunity to make a call, with the selected animal picking up the phone after a few buzzers, is the most exciting part of the game. A whole zoo is awaiting for the kid in the phone book. Here are: squirrel, sheep, snake, goat, cow, kitten, chicken, rooster, lion, elephant, horse, mouse, monkey, panda, penguin, parrot, pig, dog, tiger and duck.
Toddler Toy Phone Learning - Preschool Activities 1.0 Update