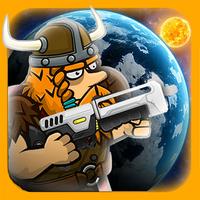 Tough Viking Games in Zero G
Not Available
Removed
from the App Store
Screenshots for iPhone
More Screenshots for iPad
Tough Viking Games in Zero G Description
Free viking game featuring the tough last viking flying in zero gravity jumping from the flat earth. The game includes space dragons, asteroid shooting and naturally brave vikings! The goal is to get to the outer worlds in space but the way there might be endless.

Tough Viking - FREE Viking Games is a free viking game and space shooter where you jump and fly from the flat earth into space towards the outer worlds. Test your skills in this viking saga by fighting a swarm of dragons during an asteroid shower.

In this free viking game you must combine precise flying between asteroids with jumping and shooting space dragons. Also this last tough viking must fight dragons in zero gravity which is why there are a lot of guns to choose from. In order to upgrade to more powerful weapons however, you must collect space loot in the form of gold coins.

You wonder how this all make sense? Well... once upon a time the last brave vikings lived who loved guns, the earth became flat and got named "the flat earth". After that the dragons attacked within a shower of asteroids. In order to survive the tough vikings had to collect gold coin after gold coin because upgrade new guns are not cheap in this alternate galaxy. The outer worlds (to where our tough viking is trying to go) is the goal of this viking saga since here our hero hopefully wont be the last of his kind. The end.

Tough Viking - FREE Viking Games FEATURES:
1. The edge of the world! Jump from the flat earth through space and towards the outer worlds in zero gravity. Only a very brave viking could manage such a feat.

2. Embark on the most savage viking adventure in the galaxy and battle dragons in this free viking app. Face the onslaught of mythical creatures with something different than a sword.

3. Tons of different powerful space guns! Collect all of the most powerful space guns in any free viking games while you fly in zero gravity. No pay to win like other free games, only hard earned gold coins.

4. Collect gold coins in heaps, it is a last viking adventure saga after all. In zero gravity however this is no simple feat and one must be brave to fly between asteroids.

5. Awesome free 2D endless space platformer. An endless space runner where your powerful weapons will guide you.

6. Great last Viking music makes it a real adventure jumping from platform to platform from the flat earth.

7. Stunning graphics with different planets and scenery going by in the background in this free viking games!


***
Please rate 5 stars if you liked it! :)
Updates coming soon...
Tough Viking Games in Zero G 1.02 Update