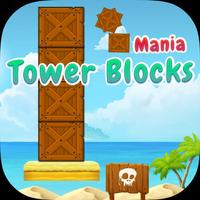 Tower Blocks Mania
Free Get
Screenshots for iPhone
More Screenshots for iPad
Tower Blocks Mania Description
The player must per blocks for the finish line. Without to the high-rise buildings from falling to the box, color blocks square wood brown. And the box will continue to change, when the defense more difficult.

How to play the game.

1. Press play button.

2. The game will all 12 checkpoint. By you will need to start playing in phase 1.

But if you play next time, you can choose whether to play defense grid.

Or will play the same game. So more stars. Stars have all 3 stars, if you lost, you will get a star. And don't pass them.

3. When you play the end of each level. The next stage will be unlocked immediately.

4. In the game have box for top box to move left and right. Move around.

You click the box to blocks falls. The need to agree on box base support.

If not in the base of the box will drop. You will lose.

5. Per blocks indefinitely, like the building town, even high, until the line designated by the box.

Must not fall. If you fall down, you will lose, the game will end immediately.

6. If you continue to tall bloxx blocks success until the line designated by a time 3 seconds.
To keep the box until 3 seconds. If fully 3 seconds. The box will not fall down,
you will win and pass the next, if not 3 seconds. Box tower blocks fall first. You will lose.

7. This game, no time limit, but the time per box. There will be 3 seconds to prop up a box. don't box down from the base.

8. game saves to play every time. You can play in the next stage. Without having to start over.

9. In each stage of the borderline vary lines is rising. You will need to new tall building box is, makes the game more difficult.

10. It will look different;

10.1 rectangular box plain.

10.2 box vertically.

10.3 box horizontally.

10.1 box 8 clover.

10.2 triangular box, for it will be harder because the box is rolling back and forth.

11. The next checkpoint box move left - right to move faster and faster.
Tower Blocks Mania 1.0.0 Update