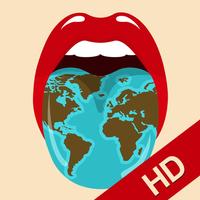 Translator with Speech HD Pro
$1.99
Translator with Speech HD Pro Description
The coolest translator on the iPad now supports speech input for the following languages:

Czech
Dutch
English
Finnish
French
German
Hungarian
Italian
Japanese
Korean
Polish
Portuguese
Russian
Spanish
Swedish
Turkish

NEW: photo feature. Take a photo of any text in any language, and translate it!

Check our video: http://youtube/R5wnmvkPF4o

Use this talking translator to instantly translate any text into any of 54 languages! It also pronounces the translation for you.

Unlike other translation apps, this one does not solely depend on one web translator. It produces superior spoken translations!

This translator also stores previous translations in its database and allows you to prepare a set of translations in advance and play them back later without the need for internet and expensive data roaming.

This application features:

-Translation into any of 88 languages
-Allows for English language speech input
-Remembers earlier translations, providing playback without internet
-Just click to playback; very useful when trying to tell that taxi driver where you want to go
-Increase the font size
-Localization for 10 major languages
-Transliteration support for non-latin character sets
-Sleek user interface
-Send your translations to Twitter, Facebook or Email
-Inbuilt common phrases for major languages
-Voice support! Supports voice recognition for English

Supported languages:
-Afrikaans
-Albanian
-Arabic
-Armenian
-Azerbaijani
-Basque
-Belarusian
-Bengali
-Bosnian
-Bulgarian
-Catalan
-Cebuano
-Chichewa
-Chinese
-Croatian
-Czech
-Danish
-Dutch
-English
-Esperanto
-Estonian
-Filipino
-Finnish
-French
-Galician
-Georgian
-German
-Greek
-Gujarati
-Haitian Creole
-Hausa
-Hebrew
-Hindi
-Hmong
-Hungarian
-Icelandic
-Igbo
-Indonesian
-Irish
-Italian
-Japanese
-Javanese
-Kannada
-Kazakh
-Korean
-Lao
-Latin
-Latvian
-Lithuanian
-Macedonian
-Malagasy
-Malay
-Malayalam
-Maltese
-Maori
-Marathi
-Mongolian
-Nepali
-Norwegian
-Persian
-Polish
-Portuguese
-Punjabi
-Romanian
-Russian
-Serbian
-Sesotho
-Sinhala
-Slovak
-Slovenian
-Somali
-Spanish
-Sundanese
-Swahili
-Swedish
-Tajik
-Tamil
-Telugu
-Thai
-Turkish
-Ukrainian
-Urdu
-Uzbek
-Vietnamese
-Welsh
-Yiddish
-Yoruba
-Zulu

Speech translation is provided for the following languages:
- Afrikaans
- Arabic
- Albanian
- Catalan
- Chinese Simplified
- Chinese Traditional
- Croatian
- Czech
- Danish
- Dutch
- English
- Finnish
- French
- German
- Greek
- Hindi
- Hungarian
- Icelandic
- Indonesian
- Italian
- Japanese
- Korean
- Latvian
- Norwegian
- Macedonian
- Polish
- Portugese
- Romanian
- Russian
- Serbian
- Slovak
- Spanish
- Swahili
- Swedish
- Turkish
- Vietnamese
- Welsh

This application requires access to the internet to create a new translation.
Translator with Speech HD Pro 3.30 Update
* Major overhaul of the user interface: Translator with Speech never looked this good!
* Additional features: quick language selection,recent language listing.
* Improved translation engine, using the best language sources available.
More
More Information
Language:

Dutch

English

French

German

Italian

Japanese

Spanish

More