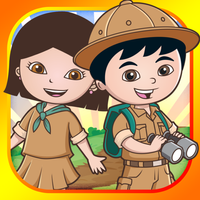 Treasure Dash Math: Fun Multiplication Games for Kids
Not Available
Removed
from the App Store
Treasure Dash Math: Fun Multiplication Games for Kids Description
Learning multiplication is fun with Treasure Dash Math! This app is for beginning to intermediate level multiplication learners, and is aligned with Common Core Standards. Students learn multiplication concepts (including interpreting arrays and multiplication properties), practice multiplication problems, and apply their knowledge to real-life situations with word problems.

Start your adventure as Safari Zach or Dashing Emma on the island of Maths Landing, where you earn gems by solving questions. Each time you finish a quiz, you hop to the next island. Linear Island teaches about number lines, Equation Nation tests your ability to solve multiplication equations, and the Bonus Isle helps you understand a multiplication table. Finish off on Wordville, where your challenge is to solve real-life word problems before time runs out! Once you've followed the treasure trail to the end, bring your collection of gems to Prize Island, where you can buy a prize to show off to your friends and family.

For parents and educators who are looking for a way to introduce your child to multiplication, this app is the learning tool you've been looking for. Hurry, the adventure with Safari Zach and Dashing Emma is waiting to begin!