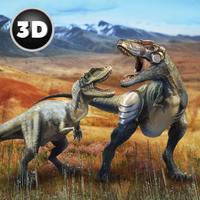 T-rex Dino - Fighting Sim
Free Get
Screenshots for iPhone
More Screenshots for iPad
T-rex Dino - Fighting Sim Description
Become really powerful monster! Be the mighty dinosaur in the fantastic Jurassic atmosphere, fight to the death and have fun with T-rex Dino - Fighting Sim!

Unleash your prehistoric dino fury dueling with the other dinos! Choose your favorite dinosaur to join this fantastic fighting tournament - Tyrannosaurus, Allosaurus, Spinosaurus, famous Velociraptor or another beast of war! Attack first and repel all the strikes in time, otherwise you'd be dead in a second!
Become the best dino fighter ever! Perform different dinosaurs' martial arts to finish your rivals one by one and step over their dead bodies to the next battle! Do your best and don't forget about your personal fighting indicators! Use your sharp claws and dangerous jaws to defeat all your enemies and become the most horrifying creature of these prehistorical times!

Improve your battle skills! Earn points for successfully completed duels and power-up such fighting skills as endurance, health, and regeneration or buy new mighty dino to play for! No one knows what exactly happened millions of years ago, so you can unlock very special dinos – dino cyborgs, robot dinosaurs, armored dinos (battle beasts of long-extinct race), or stripped poison reptiles – it's up to you!

Let your rivals hear your powerful roar right before their death! Enjoy T-rex Dino - Fighting Sim!

T-rex Dino - Fighting Sim features:
• Ultimate Dino fighting simulator
• Wide range of battling tricks and super blows
• Different dinosaurs to play for
• Realistic 3D graphics

Create an image of really brutal and cruel prehistorical monster and have fun playing T-rex Dino - Fighting Sim!