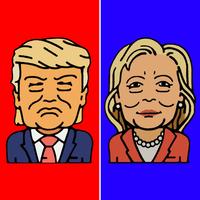 Trump vs Hillary - Presidential Race
Free Get
Trump vs Hillary - Presidential Race Description
Donald, Hillary, and Bernie are all trapped underneath the sewers of downtown Washington DC. Instead of insulting each other on social media, all Presidential candidates must combine efforts to reach The White House safely. Be careful! There are many obstacles that will stand in the way; you must jump, slide, and move left to right in order to avoid defeat. Collect votes along the way in order to unlock characters and purchase power-ups!

Goodluck! May the best Presidential candidate win, and may God bless The United States of America!

Disclaimer: This is a parody game and everything in the game is fictional. The contents of this game are not related to any political figure whatsoever.