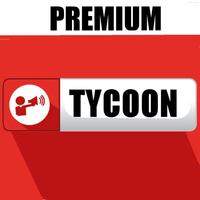 Tubers Tycoon Premium
$0.99
Tubers Tycoon Premium Description
PREMIUM VERSION:
- No ads
- More videos available in the shop
- Less bugs

Finally in iOS one of the best youtubers life simulator, in Tubers tycoon you can create your own virtual channel and grow your audience in any of the following topics:

- Vlogs
- Gameplay
- Prank
- Beauty & fashion
- Music

Create new content and get new views which will lead in new subscriptors and virtual currency.. and who knows, maybe your video get viral and you end up being millionaire! as in the real life! tube tycoon is a fun simulator game!

Welcome to the youtubers life! Compite with your friends and climb in the ranking till the top! will you be the next pewdiepie? In tube tycoon you need to play with strategy, for example invest in the videos which the go viral percentage is higher!

As a recommendation we suggest to do not spend all your budget at one, split in a few videos and be patient! Im sure your next video will go viral! like yosoygerman for example!

This game represent the youtubers life and was inspired in tube tycoon, a great pc simulator which was promoted by some famous youtubers like yosoygerman or el rubius. jacksepticeye was also promoting the game in his main channel.

This game is still in his early steps, in the new few weeks we will be adding a lot of new content and new funcionality!
Tubers Tycoon Premium 1.1 Update
New backend
Bugs fixes
More