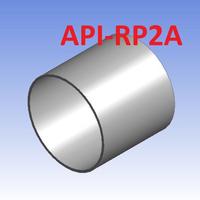 Tubular_
Free Get
Tubular_ Description
Apps for design and validate unity check of Tubular's section, unity check is the ratio between actual stress compare to allowable stress in accordance with Code and Standard.
API-RP2A-WSD 22nd edition 2014 is used for the design.
This program consider elastic and inelastic local bucking stress for D/t ratio larger than 60.
User could customise section's size and design parameter, the program have function to compile the Calculation Report and send it through email. Format of the Report is suitable for standard miscellaneous structure design calculation.
Two available option of design unit : kN-m or kips-ft, geometry size use millimetre or inch.
This program could be used for section's properties calculator, or weight calculator to estimate tube's weight per length.
Tubular_ 1.3 Update
Minor bug fix release.
More