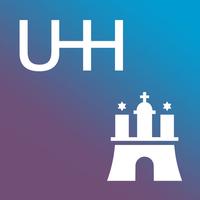 UHH global
Free Get
UHH global Description
UHH global provides international students and prospective students, doctoral researchers and faculty members, as well as visitors to the University with information about Universität Hamburg.

TOPICS
A clear overview of the most important topics is offered for each target group.

EVENTS
What's happening on campus? All public events at a glance.

CAMPUS NAVIGATOR
Looking for somewhere particular? Let the app guide you around campus! Click on the family icon for the details of all family-friendly locations on campus—from childcare and advising services to diaper-changing and nursing facilities.

SEARCH
Searchable index for quick access to website content.

FACULTIES & FACILITIES
Rapidly access the contact information for all University offices and services.

MENUS FOR CAFETERIA
What's for lunch? The opening hours and menus for all student dining halls and cafés at a glance!

UHH global's features are continuously being developed and improved. Please share your wishes, questions, and suggestions with us!

Found an error in the app? Then email us at app@uni-hamburg.de.