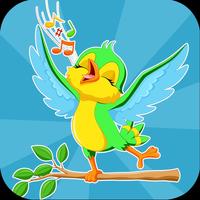 Ultimate Birds Soundboard app
Free Get
Ultimate Birds Soundboard app Description
Do you love listening to the sound of the sparrows chirping, the pigeons softly cooing and the robins singing? Wish you could hear these beautiful bird songs even in a busy city? Now you can, with "Birds Tweet - Soundboard app".This app has a huge variety of bird songs and calls from all over the world. This app is perfect for birders and ornithologists. All the sounds in this bird soundboard app are taken from live field recordings; so you get the feel of really being in a rain forest in Peru or the jungles of Africa!

Listen HD sounds of birds like duck's quack, eagle's scream, hen's cluck, owl's hoot, parrot's talk, pigeon's coo, robin's chirp, sparrow's yelp, swallow's twitter and many more voices at one spot with this leading gorgeous soundboard app.

Discover new surprising superlative sounds in every update because in this app you can find all of your desired sounds in one spot with luxurious retina graphics. Moreover the app has following features:

- You can save and listen your favourite birds sounds.
- Customise pitch of each sound using pitch bar.
- Customise the background wallpaper with in the app.
- You can play multiple sounds at the same time.
- App includes both single and looping birds sounds.
- There is no need of internet connection to listen the birds sounds.
- This app provides you endless entertainment.
- This app has your demanded exclusive birds sounds.
- This app is designed universally for both iPhone and iPad devices.
- This app is for whole family including adults, children and girls.

Put back old apps for birds sounds. Now it's easier to find outstanding sounds for feast of yourself. Just download the app and listen quality sounds with perfect combinations.
Ultimate Birds Soundboard app 1.0 Update