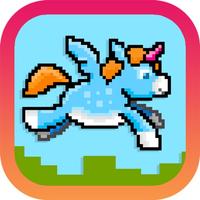 Unicorn Zombie Attack
Free Get
Screenshots for iPhone
More Screenshots for iPad
Unicorn Zombie Attack Description
Unicorn Zombie Attack

Fun for Kids - Try it Today!

Move over My Little Pony, Theres some new Baby Horses in town. Princess the Little Unicorn Pony and Jumping Jack need your help.

My Little Baby Unicorn Pony Run is an action packed kids game where you help the Baby Unicorn Pony Run, Jump and Fly to reach the cute little Baby Unicorn's Mom.


These are no talking ponies with funny voices. Make these Unicorn Ponies run, jump and fly over danger (Zombies, Water, Fire, Free falls). Bring some Fun Magical friends style jam packed action to your phone.



Help the Baby Unicorn Pony run, roll, fly and have some fun. Make them run. Make them jump. Make them roam free by jumping over obstacles and rolling through the troubles and reach its friends.

Tap screen to jump and fly over obstacles in the Baby Unicorn Pony game. Baby Unicorns run is an addictive Little game. We have created several levels for extended fun. Challenge your friends and see who reaches the top level fast.

My Little Baby Unicorn Pony Needs Your Help. This is no petting Zoo, the magical worlds are full of scary monsters and even zombie unicorns trying to capture you and turn you into a Zombie Unicorn.

To survive the hungry Zombies Princess the Little Unicorn Pony has to run, jump and bounce out of danger. Where's my little Unicorn pony?

Features:

- 50 levels.

- Controls so simple a 2 year old can play
- Choose between Team Princess or Team Jumping Jacks
- Race through 3 worlds, one of Peace and Harmony, one of Treasures, and one of pits of fire and fireballs falling from the sky

- Cute playable Little Baby Unicorn Pony characters

- Find FREE power ups along the way.

- Under 50 megabytes so download it anywhere, anytime!

- Tablet support!
Unicorn Zombie Attack 1.0 Update