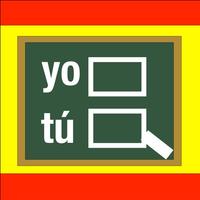 VerboMucho
Free Get
VerboMucho Description
This app was created to learn Spanish verb conjugation.

[Features and limitations]

- Supports the conjugation of simple tense and imperative mode.
- Recording verb is 20 (300 words can be added by the upgrade.).
- Only one meaning of the verb is displayed. Check additional meaning by the dictionary(This app is not a dictionary).
- There are two types of questions format. "Selective" and "Descriptive". "Selective" is default mode.

- In "Selective" mode, choose suitable conjugated form from the options.
- Indicative mode (Present, Preterite, Future):There are six options.
- Imperative mode : There are four options.
- Other modes: there are five options.
- In "Descriptive" mode, write suitable conjugated form in the input field.
- If correct, the background of the field is green. Otherwise, it will be red.
- In "Descriptive" mode, tap the light bulb icon to reveal answer in the input field (When it is blank).
- Tense and person can be turned on / off individually.
- Check box in the upper right corner of the training screen is a bookmark. You can checked it by tapping.
- The bookmarks displays to the right of the "List" screen.
- In the "Bookmark" tab, there is only verbs that you have bookmarked.

[Support]
Feedback, requests, and bug reports, please send to the following email address.
Thank you.

support@electrico-elefante.com

[About upgrade]
- You can remove the ads and get additional 300 verbs by in-app purchase.
More Information
Language:

English

Japanese

More