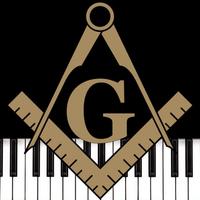 Virtual Masonic Organist
Free Get
Screenshots for iPhone
More Screenshots for iPad
Virtual Masonic Organist Description
The Virtual Masonic Organist is an app which as the name suggests has been designed to replicate a Lodge Organist, the interface makes it easy to operate by anyone who is acquainted with the basic operating knowledge of a mobile or tablet device.

Virtual Masonic Organist provides musical accompaniment to all Craft Lodge Ceremonies, and other features of Regular Lodge meetings.

"Virtual Masonic Organist" is the complete solution to your Masonic musical needs!"

Virtual Masonic Organist is fully equipped with the music to accompany all aspects of Craft Masonic Ceremonies and the general business of Lodge meetings, such as;

- Opening
- Installation
- 1st Degree
- Close
- 2nd Degree
- Festive Board
- 3rd Degree

The facility to play incidental/circumstantial music has also been added for those non-ceremonial parts of a Lodge meeting for example when brethren are assembling prior to the commencement of the Lodge Meeting, or as background music during the Festive Board.

Clearly music is a personal preference and with this in mind the app has been created in such a way as to allow the user to insert their own choice of music to any aspect of a ceremony, including adding music (and titles) to each of the 12 Circumstantial buttons, thus providing plenty of diversity.

Virtual Masonic Organist allows you to select and add any song from your devices iTunes Music library.

It is also possible to change the title of any aspect and add additional aspects should this be required, this facility makes it possible to customise the Virtual Masonic Organist to whatever working any particular Masonic Lodge performs.

To fully appreciate the capabilities of this app it would need to be heard through external amplified speakers rather than the internal device speakers.

A suitable set of amplified speakers can be obtained from most large electrical retailers, wireless Bluetooth speakers seem to be the popular choice at this time.

With regard to circumstantial music, the iTunes Store has a vast amount of excellent music which can be purchased and downloaded individually, or as part of album collections.


About "Virtual Masonic Organist"

As Secretary one is in the forefront of the running of a Lodge, and the first to be aware of any situations that might interfere with its smooth operation.

One of the problems constantly facing many Lodges just about now is the lack of available masonic organists to play at our masonic meetings, add to this the cost of having a guest organist, and you can understand the issues we now face.

The music that so enhances our Ceremonies and Festive board is in decline yet must not be allowed to disappear.

With all this in mind I decided to investigate what options might be available, and found that apart from some masonic music on CD there is little else. So I approached A-Lab Software Limited, and invited them to come up with an app that would enable someone (basically anyone) to play the relevant music as would a "live organist"

My prerequisite to A-Lab Software Limited was that the program must be:

1. Simple to operate.
2. Able to be customised by the owner to suit particular preferences.
3. To work on current iOS devices.

The Virtual Masonic Organist became a reality, and the result far exceeded my expectations!

For license cost, please refer to the In-App Purchases section below.

If you have already purchased Virtual Masonic Organist previously, you can simply use the Restore Purchases button found by touching the Settings button on the main screen, on each of your other devices to activate your previous In-App purchase at no extra charge.
Virtual Masonic Organist 1.58 Update
Compatibility with iOS 11 and iPhone X and iPad Pro 10.5.
More