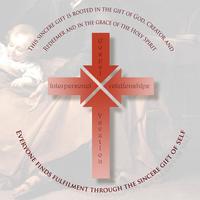 Visual Guide to the Holy Mass
$4.99
Screenshots for iPhone
More Screenshots for iPad
Visual Guide to the Holy Mass Description
The Visual Guide to the Holy Mass (Visual Guide) is a graphical representation of the Order of Mass. As a catechetical tool, it complies with the Catechism of the Catholic Church 1346, 1347 and therefore, it is divided into two parts: the Liturgy of the Word and the Liturgy of the Eucharist, that form a fundamental unity. The Visual Guide's intention is to become a learning tool for families, so they may participate more fully in the Eucharist. Families share their faith and exchange learning experiences through interpersonal relationships and dialogue, often 'on the go'; in long car or train journeys, while walking, and during family outings. The founder of School and Family C.I.C., the initiator of this app, desires that The Visual Guide To The Holy Mass becomes the 'mobile' point of reference for families. The source and inspiration for this app is the work of Maria Montessori and Sofia Cavalletti.

School and Family C.I.C. is a community interest company registered in the United Kingdom (www.schoolandfamily.org). School and Family is a non-profit family held organization with the mission to inform, encourage and resource Catholic parents as leaders of the life-long educational process that integrates the social, religious and professional formation of a person (Gaudium et Spes 43) rooted in reciprocal, honest, interpersonal relationship and prayer.

All proceeds from the sales of this app are directed towards the support of the School and Family mission. By purchasing the app you make it possible for School and Family to develop Catholic educational resources for families, to deliver workshops as well as family retreats and family catechesis programs that promote educational exchange between parents and children in which each person gives and receives. This exchange constitutes fundamental opportunity for building communion (FC21). "The mission to educate demands that Christian parents should present to their children all the topics that are necessary for the gradual maturing of their personality from a Christian and ecclesial point of view" (Familiaris Consortio 39).

The Visual Guide to the Holy Mass app incorporates The Order of Mass, Excerpts from the English translation of The Roman Missal © 2010, International Committee on English in the Liturgy, Inc. All rights reserved.
The text used in the App has been proof-read and accepted by the International Commission on English in the Liturgy (ICEL) in Washington DC, USA. The permission to publish the text has been received from The Catholic Bishops' Conference of England and Wales in the UK.


* * *
Aplikacja "Msza Święta" jest graficznym przedstawieniem porządku Mszy Świętej. W celach dydaktycznych cztery części Mszy Świętej przedstawione są w dwóch częściach (Liturgia Słowa i Liturgia Eucharystyczna). Aplikacja ma być pomocą dydaktyczną dla rodzin, a jej celem jest ich pełniejsze uczestnictwo w Eucharystii. Założycielka School and Family C.I.C., inicjatorka tej aplikacji, pragnie, aby stała się ona dla rodzin 'przenośnym' źródłem odniesienia. Inspiracją dla tej aplikacji jest dzieło Marii Montessori jak również Sofii Cavalletti.

School and Family C.I.C. (Community Interest Company) jest rodzinną organizacją 'non-profit' zarejestrowaną w Anglii (www.schoolandfamily.org). Misją organizacji jest informowanie, zaopatrywanie w pomoce dydaktyczne oraz wspieranie rodziców - głównych wychowawców - w procesie kształcenia, który obejmuje całe życie i ma za zadanie integrację formacji religijnej, społecznej oraz zawodowej.

Dochód ze sprzedaży aplikacji przeznaczony jest całkowicie na wsparcie misji "School and Family".

W aplikacji "Msza Święta" wykorzystany jest tekst "Mszału rzymskiego dla diecezji polskich", Wydanie Pierwsze, Pallottinum. Tekst publikowany jest za zgodą Konferencji Episkopatu Polski i Wydawnictwa Pallottinum.
Visual Guide to the Holy Mass 1.2.2 Update
Improvements made in optimizing for all screen sizes.
More
More Information
Language:

English

Polish

More