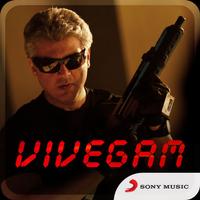 Vivegam Tamil Movie Songs
Not Available
Removed
from the App Store
Vivegam Tamil Movie Songs Description
When the Thala of our industry and the rockstar Anirudh get together, it will be nothing less than massive and that's exactly what 'Vivegam' is. Directed by Siva and produced by Sathya Jyothi Films, 'Vivegam' is a spy thriller set in international standards starring Thala Ajith, Kajal Aggarwal, Vivek Oberoi and Akshara Haasan in lead roles. The first track from the album 'Surviva' created mind-boggling records and became the first Tamil song to touch the million stream mark in less than 24 hours. Marking the return of rapper Yogi B after a brief hiatus, the track summarizes the entire journey of Ajith's career spanning 25 years. 'Thalai Viduthalai' is an awe-inspiring track written by the director himself. An instant energy- booster, this track will give you all the motivation you're looking for. With a classical base 'Kadhalaada' is a soul- stirring track and so is the reprise version. The 'AK Theme' and 'Veriyera' will add immense charm to Thala's charismatic on screen-presence. Ending the album with an international touch is 'Never Give Up' by Hip-Hop sensation Raja Kumari. Completely in English with a Bond-like feel, this track is written by Raja Kumari. The album is one of a kind for an Ajith film and is receiving widespread positive reviews. The film is slated to release worldwide on Aug 24th 2017.

What are you waiting for? Get wallpapers, songs, videos and a whole lot more of Vivegam here. Install it right away!

Connect with Sony Music Entertainment

Like us on Facebook - https://www.facebook.com/SonyMusicSouth

Follow us on Twitter - https://twitter.com/SonyMusicSouth

Google+ - https://plus.google.com/+SonyMusicSouth/posts

Exclusive HD Videos on VEVO - https://www.youtube.com/user/SonyMusicSouthVEVO

Support:

Love Us? Like Us ?? Then Rate Us

In case of any issues, reach us on , send feedback: app.support@sonymusic.com

All content available on this application is legitimate and duly licensed by Sony Music Entertainment India Pvt Ltd. All rights reserved.
Vivegam Tamil Movie Songs 1.0.01 Update