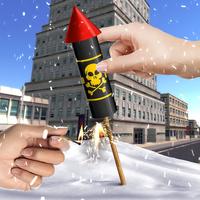 VR Bang Fireworks 3D Christmas
Free Get
VR Bang Fireworks 3D Christmas Description
VR Bang Fireworks 3D Christmas
VR explosion Fireworks Christmas 3D - This is a unique 3D game with fireworks at Christmas!
The game 3D location of the city, in which you can arrange and Firecrackers Fireworks and Poto blast them yourself!
VR game, which means you will feel the effect of presence!
If you are afraid to blow up the real fireworks, try to secure our simulator!
The composition of a unique pattern of Fireworks and see what a beautiful fireworks will!
Create an atmosphere of Christmas and New Year! Surprise your friends with 3D Fireworks and firecrackers!
Scattered all over the city Fireworks and see how beautifully they explode in the sky!
The game uses beautiful animation and sound of explosions!
The more you Let missiles, the more points earned!
Kopi coins and unlock new fireworks!
Discover the complete collection before your friends!
Without Salute celebration seems incomplete!
Thank you for playing our games and applications! Leave us feedback and we will try to make our games better!
VR Bang Fireworks 3D Christmas 1.0 Update