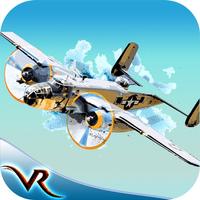 Vr Real Airplane Driving : 3D Hawaii Adventure
Not Available
Removed
from the App Store
Vr Real Airplane Driving : 3D Hawaii Adventure Description
Suppose! you are a pilot and flying airplane. Your job is to control its flight and keep in the real direction of journey. Because your airplane is over a sea. There is an sandy island and hilly areas. You have to keep on imaginary path that is assigned to you in space. For your ease the path is marked with checkpoints. Pass the plane through air rings to complete your job honestly. Save your airplane to be crashed. You have limited time to clear your mission You have to reach the destination before the time finished. Fly the plane carefully for your successful travel. You have been already played many flight or simulation games but it's a challenge to check your expertise.

VR Infinite Airplane Flight : 3D Fly-Wings 2016 is right choice for jet simulator and plane simulator lovers because you will explore skies never before in virtual reality. To be the most enjoyable airplane travel in the sky you are free to visualize left, right, up, down forward and backward view.

VR Infinite Airplane Flight : 3D Fly-Wings 2016 is first person simulation game, which tasks players to assume control of an airplane. Immerse yourself in the pilot's seat and enjoy 3D vr tour in different modes. This vr flying game include different planes that you can pilot with cockpit view. You can fly anything from private jet to jumbo jet with ideal and realistic flying experience. The game features an immersive set of many missions, dynamic real world weather system, trees and interactive clouds.

How to play:
- Use VR glasses
- Control speed by throttle on right bottom of screen.
- Pass through air rings and don't miss any ring.
- Take care of altitude to avoid plane be crashed.
- Keep an eye on fuel.

VR Infinite Airplane Flight : 3D Fly-Wings 2016 Features:

- Best flight simulation game.
- Realistic 3d graphics with dynamic lighting and amazing flight simulation effects.
- look like real airplane movies .
- game with user friendly GUI and controls.
- Good quality sound effects.
- Efficient plane controls.
Vr Real Airplane Driving : 3D Hawaii Adventure 1.0 Update