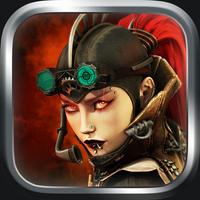 War Dragons Magic Dungeon - match 3 puzzle
Free Get
War Dragons Magic Dungeon - match 3 puzzle Description
The ultimate match three game that is easy to learn but difficult to master.

Battle your way through the puzzles to become the master of the realms.

Use your magic every step of the way!

Simple help match 3 or more items in a vertical or horizontal way, to unlock those items.

Earning coins as you go to help use special magic to conquer the realm.

*** The Game Features ***

- Amazing Art work

- Levels that get harder as you progress - can you beat the realms?

- 3 Modes of play.

1. Levels - become the king of the dungeon.

2.Timed - feel the pressure as time is against you - only for the skilled masters.

3.Endless mode - simple play with no limits on slides, time etc - build up your coin collection.


Become the master of the realm and destroy the evil!
War Dragons Magic Dungeon - match 3 puzzle 1.3 Update
**
This app is integrated with Alphonso software. Subject to your permission, the Alphonso software receives short duration audio samples from the microphone on your device. The audio samples never leave your device, but are irreversibly encoded (hashed) into digital "fingerprints." The fingerprints are compared off-device to commercial content (e.g., TV, OTT programming, ads music etc.). If a match is found, then appropriate recommendation for content or ads may be delivered to your mobile device. The Alphonso software only matches against known audio content and does not recognize or understand human conversations or other sounds.
More