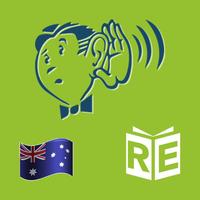 What's Changed? Skill Builder - AU version
Free Get
Screenshots for iPhone
More Screenshots for iPad
What's Changed? Skill Builder - AU version Description
The What's Changed? skill builder has been specifically designed to develop students' phonemic awareness - the ability to discern the sounds, and the sequence of sounds, within a word. Phonemic awareness is a critical skill for learning to read and can be improved with practice.

What's Changed? focuses on developing phonemic awareness with vowel sounds and consonant blends through exercises that require students to listen to two non-words and identify what changed between the two words.

Students develop the core foundational skills that make up phonemic awareness by identifying the type of change that occurred, including:
- identifying the sound that changed ('zat' to 'zad')
- substituting a new letter for the sound that changed ('feld' to 'fald')
- specifying the letter for a sound that was added or omitted ('strek' to 'stek')
- switching two letters for sounds that were switched ('blist' to 'blits')
Students with poor phonemic awareness skills often make these types of errors when reading.

What's Changed? also develops segmentation and blending skills - the ability to segment a word into its individual sounds and then blend the sounds together for whole word reading. These skills are also essential for successfully learning how to read, as they enable students to blends sounds together in order to recognise whole words when reading.

What's Changed? is suitable for students of all ages, particularly emerging readers and struggling readers. It is also good for English language learners wanting to improve their auditory discrimination and pronunciation of English. Parents or teachers can monitor students' progress, and pinpoint weaker areas by looking at the results for each skill type.

There are three different categories in What's Changed?, each with four increasing levels of difficulty. Within each game, the words build from VC (e.g. 'ob') to CCVCC (e.g. 'brisp'). The Standard English category develops letter-sound knowledge for the most common sounds of letters (for example, the /k/ sound of the letter 'c' as in 'cat').

The Readable English category builds on from the Standard English category, including the non-standard sounds of letters (for example, the other sounds the letter 'c' can make such as in 'cell', 'ocean' and 'cello'). In Readable English when a letter makes a sound other than its usual sound, it is marked with a glyph, enabling all the sounds of English to be represented by distinct characters (e.g. the different sounds of the letter 'o' in 'cove', 'love' and 'move' are clearly reflected with different glyphs).

The Colour category uses only colours to represent sounds, which requires users to strictly focus on auditory discrimination rather than sound-symbol association.

Readable English: Read It | Speak It | Know It.
What's Changed? Skill Builder - AU version 1.3 Update
Minor Improvements and Bug Fixes.
More