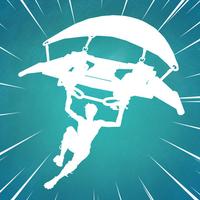 Where We Droppin Boys?!
Free Get
Where We Droppin Boys?! Description
Randomly picks a location for you to use as your parachute designation in the video game Fortnite.

Track your Battle Pass Challenges for all 10 weeks for each season so you make sure you complete them all!

Be strategic by finding locations of !!!Ballers!!!, Natural Cozy Campfires, QuadCrashers (ATVs) and DriftBoards

If you have any issues using the app or have any suggestions for improvement, contact me at bzlight2012@gmail.com

Where We Droppin Boys?! is not affiliated with Epic Games.

Portions of the materials used are trademarks and/or copyrighted works of Epic Games, Inc. All rights reserved by Epic. This material is not official and is not endorsed by Epic.
Where We Droppin Boys?! 2.3.0 Update
Updated for Season 9! Baller locations now available with one press!
More