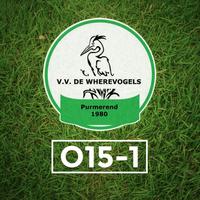 Wherevogels O15-1
Not Available
Removed
from the App Store
Wherevogels O15-1 Description
Wil je graag heel makkelijk op de hoogte blijven van de zaken rondom Wherevogels O15-1? Wil je niet lastig hoeven doen met opzoeken van informatie vanaf verschillende websites en applicaties?

Download nu dan de applicatie speciaal ontworpen voor het Wherevogels O15-1 elftal.

De Wherevogels O15-1 applicatie bied je de optimale omgeving om op de hoogte te blijven van de zaken in het komende en lopende seizoen.

De applicatie is optimaal geschikt voor de spelers en ouders / verzorgers of andere belangstellenden die verschillende informatie up to date willen opvragen:

- Hoe staat het met de competitie en/of bekerstand.
- Wat is het laatste nieuws betreft Wherevogels O15-1 of Wherevogels in het algemeen.
- Wat is het programma tijdens het lopende seizoen.
- Krijg via een pop up melding een notificatie wanneer er een belangrijke mededeling is.

Voor de spelers en ouders / verzorgers is er ook een afgeschermde sectie, waarin de volgende zaken aan bod komen:

- Kijk naar je statistieken.
- Meld je af voor een training of voetbalwedstrijd.
- Kom makkelijk in contact met je trainers of begeleiders van het elftal.
- Lees de allernieuwste wedstrijdverslagen.
- Wie is er de speler van de maand.

Dus ben je onderdeel op welke manier dan ook van Wherevogels O15-1, dan is deze applicatie de must om te installeren.
Wherevogels O15-1 1.2 Update
- Performance improvements
More