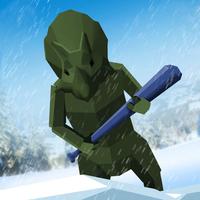 Wild Beasts - War Battle
Free Get
Screenshots for iPhone
More Screenshots for iPad
Wild Beasts - War Battle Description
Time to rush into this awesome wild animals' world and… join their ultimate epic battle! Some mad doctor created strange weapons, endowed these poor animals with reason… and ordered them to fight with each other! That's absolutely insane! Learn what happens next with our stunning Wild Beasts - War Battle game and choose your side!

All these little creatures are ready to fight until the end – and not with the help of their horns, tooth, hoofs, claws and other natural weapons… but with the help of the real guns, rifles, turrets, bows, knives, sabers, swords, fire throwers and even dynamite itself! Choose your perfect army from more than 20 different units and take your step on the warpath!

Here you'll be able to be a real mad animals' army commander: you'll watch for such animals as bulls, cows, sheep, horses, pigs, goats, foxes, rabbits, wolves, bears, velociraptors, stegosaurs and even the t-rex himself! Try to unlock them all simply earning useful points for each successfully passed battle! Check this outstanding Wild Beasts - War Battle game and feel like real animals' lord!

Be careful and attentive and don't forget to balance your troops in case if you want to prevent great losses in your insane army! Add some healers to the band of real damage dealers and brave tanking animals and be ready to use them at full volume! It's your great chance to prove that you're the best army commander ever!

Wild Beasts - War Battle features:
• An epic fighting contest between crazy armed animals
• The chance to rule the whole army of beasts
• The wide range of animal fighting units – from the cutest to the mightiest
• Horrifying weapons for each animal (including the dynamite and first aid kit)
• Colorful surroundings made in awesome 3D graphics

Download our new amazing Wild Beasts - War Battle game and control these animals with your flaming fury!
Wild Beasts - War Battle 1.0.0 Update