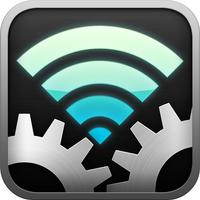 WiSnap Setup
Not Available
Removed
from the App Store
WiSnap Setup Description
WiSnap Setup – Easy setup for collecting data with your iPhone from WiSnap devices.
WiSnap Setup provides is a fast and app for setup of WiSnap devices to your iPhone and iPod Touch. WiSnap devices allow you to collect data from devices such as barcode scanners, RFID scanners, Near Field Communication (NFC) scanners, scales, GPS devices, sensors, and more. Anything that outputs common RS-232 data be used.
All setup can be done wirelessly with iPhone and iPod Touch devices, no need to connect cables, USB to serial RS-232 adapters, null-modem adapters, gender changers (aka 'gender benders'), or find mess with PC terminal programs.
Wisnap Setup will setup Wisnap devices to connect all your RS-232 devices to your iPhone and iPod Touch over WiFi in using enterprise or ad-hoc WiFi.
Now you can easily facilitate collection of data from your favorite digital scales and balances, to make controllers and monitors for lights, doors, windows, alarms, if you can think of it you can build it.
After WiSnap setup use the WiSnap to connect to your scanner or other device in ad-hoc mode, and send data with your iPhone data connection. With this setup barcode, RFID, and other data can be sent directly to any web server directly from your iPhone application.
WiSnap enables developers barcode and RFID enable all kinds of creative applications like book scouting, attendance tracking, package delivery, medical services, inventory management, asset tracking, and more all with your iPhone or iPod Touch.
WiSnap Setup 1.1.0 Update
Support for new discovery format
More