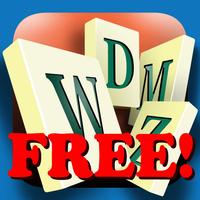 Wordumz Free
Not Available
Removed
from the App Store
Screenshots for iPhone
More Screenshots for iPad
Wordumz Free Description
Wordumz Free is a fun and seriously absorbing test of your spelling and vocabulary skills. If you enjoy word finding games you'll love Wordumz Free! This is a Lite version of Wordumz which is also available on the appstore.

Click on tiles to spell out as many words as you can. Correct words increase your score and clear away tiles to make room for more. Wrong words just earn you a silly noise and a reprimand. As play progresses the interval between tile drops gets shorter and the number of tiles being dropped increases, so you need to stay on your toes if you don't want to run out of space - once the tiles reach the top it's game over.

The longer the word the higher the score. You might think it'll be easy to make a long word with 20 or 30 tiles to choose from but just wait till your brain freezes when you start racing against the clock. Will you go for the big words or make it easy on yourself and use really short words? 2 letter words earn you 1 point, increasing to 300 points for anything longer than 16 letters - so if you want BIG scores you're going to need to play some BIG words! There are 170,000 words in the dictionary so there's no excuse for running out of words to play.

This is a Lite version of Wordumz which allows you to play an unlimited number of quick-fire games of 50 words each game, check out the full version on the appstore to see the additional features. The full version of Wordumz extended gameplay with more time and unlimited words, plus highscores and a global leaderboard, a word list browser and additional backgrounds.

Visit our facebook page to see a video preview of Wordumz in action!

Made with GamemakerStudio and uses NailBuster Software's excellent GUI Widget library. Visit www.nailbuster.com.
Backgrounds courtesy of www.webtreats.mysitemyway.com
There are no in-app purchases in Wordumz and it does not store your personal information.
Wordumz Free 2.1.1 Update