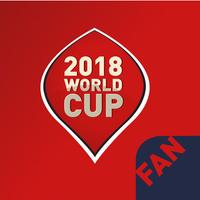 World Cup FAN Sticker Emojis
Not Available
Removed
from the App Store
World Cup FAN Sticker Emojis Description
The 2018 World Cup is here, is your chat game ready? It will be with this World Cup FAN Sticker Emoji app. Stickers and Emojis from all 32 teams are available, plus animated ref gifs, the World Cup Trophy and many others. Start texting like a pro with these incredible World Cup stickers created by world renowned soccer artists at the Futbol Artist Network.

Place the stickers on bubbles, images, photos, and even other stickers. These stickers are designed exclusively for iMessage.

Initial set of stickers are Free with In App Purchases available to unlock more stickers. Updates and new sticker packs added throughout the 2018 World Cup.

How to find your stickers after purchase:

Step 1: Tap on any conversation on iMessage

Step 2: Tap on the App Store for iMessage button (it looks like an "A" to the right of the camera), and then tap on the button in the bottom left corner of your screen. This will open your iMessage app drawer.

Step 3: Tap on the icon for 2018 World Cup FAN Sticker Emojis and start sending your stickers.

If the 2018 World Cup FAN Sticker Emojis don't show up in your tray, go to MANAGE tab and enable the 2018 World Cup FAN Sticker Emojis app.

How to use:

Just tap the sticker you want to add to your conversation. To slap a sticker on a message, photo, or even another sticker, touch and hold, then drag and drop the sticker onto the screen where you'd like to place it. Before you release the sticker, you can use a pinch or a swipe gesture to resize and rotate the sticker.
World Cup FAN Sticker Emojis 1.1 Update
New sticker emojis for countries playing in the 2018 World Cup. Stickers available from all 32 Countries.
More