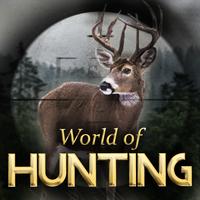 World of Hunting
Free Get
World of Hunting Description
As the new hunting season is ready to begin, all participants are handed a Sniper Rifle to help them in their quest for the BIG TROPHY. A prize not held by many, but those who own it are rewarded with big cash, gain the hunter's community respect along with honors and fame. So who will be the next hunter to hold this prestigious award? Prove your shooting skills in this new 3d unity World Of Hunting game and start hunting the biggest and most dangerous animals on the planet for FREE. Do you have what it takes to become the best hunter?

Track down over 20 different animals, including grizzly bears, mountain lions, white-tailed deer and many more! " World of Hunting " features four hunting grounds with game specific to each area.
- Forrest Hunting Area
- Savanna Hunting Area
- Mountain Hunting Area
- Farm Hunting Area

Each of these areas have an elusive trophy, for example in the Forest Hunting Area this rare animal is the stag.

Other animals that are found in the Forrest Area are the following: whitetail deer, rabbits, wolves, bears and wild boar.

In the Savanna Area you will find animals like: lions and lionesses, rhinos, elephants, zebras, crocodiles and hippos. Shoot for the trophy and Immerse yourself in diverse environments.

The Farm Area features the following animals : chicken, cows, pigs and rabbits, white and black goats.

In the Mountain Area you will hunt down animals like: the black bear for the trophy, whitetail deer and stags, wild boars, wolves, foxes and rabbits.

You can practice your shooting skills by aiming at rabbits along the way.The goal of each level is to hunt down a set number of animals. Shooting more game will enable you to stay more in that specific hunting zone.

Completing each area flawless will give you 3 stars. For each trophy you shoot down you will get the chance to unlock a new and improved sniper gun that will shoot and reload faster.

Prove your skills in this intense hunting 3d unity game and take your hunting prowess to the next level !

=== HOW TO PLAY ===
- Tap & Hold your finger to navigate through the game.
- Get to the hunting area using the map from the game.
- Set the quality of the game from high to low depending on the performance of your mobile device.
- Hunt down all the trophy animals to unlock new guns.

=== FEATURES ===
- Hunt over 20 different animals, including grizzly bears, savannah lions, white-tailed deer and stags! The animals are life-like and native to each environment.
- Great sound effects
- Beautiful 3D landscapes with nice graphics and realistic animal animations.
- Collect Trophies

=== IMPORTANT NOTICE TO PARENTS ===
- The ability to purchase optional content using real money. You can disable in-app purchases in the settings menu of your device.
- Promotional material for "Vitality Games" products and trusted business partners.
- Links to external social networking sites intended for users over the age of 13
- Direct links to the internet which may open the default web browser on your device.
World of Hunting 1.4 Update