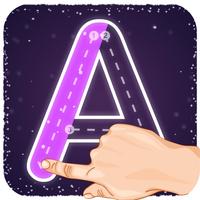 Write Alphabet ABC
$3.99
Write Alphabet ABC Description
ABC Learning letters
"Learn playing" gives you a very good game to learn how to write the alphabet (abc kids) by practicing writing.
The game is about the child write each letter of the alphabet in an interactive mode, where the child learns each letter of the alphabet intuitively, guided and in a fun way.
the game teaches children to recognize shape of number and letters
features
- Complete alphabets
- Draw letters
- letter sound

Beautiful game for teaching preschool age children the alphabet.
Follow large letter shapes for easy tracing.
Teach kids by having them trace the letters and then let them write them on their own.
Write uppercase letters. An alphabet writing lesson for preschoolers.
Children will learn how to identify and write English alphabets from A to Z in uppercase.
Kids have to follow the dots and learn how to write uppercase letters.
They will certainly love playing this interesting and enjoyable game.
Write Alphabet ABC 1.0 Update