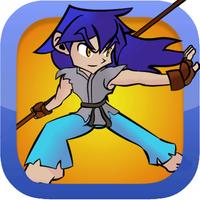 Wushu Kung Fu Stick Craft Runner
Free Get
Screenshots for iPhone
More Screenshots for iPad
Wushu Kung Fu Stick Craft Runner Description
Hero Stick Craft Runner Frenzy:
Tired of the same old typical and boring run, run, run, and endlessly run type of games? Time to try the parkour inspired Kung Fu runner game 'Hero Stick Craft Runner'; your free portal to a world of unparalleled fun and entertainment! The game is filled with Wushu jumping, stick craft and running frenzy.
Your typical mega run styled games offer nothing more than a protagonist on a running frenzy usually doing a clichéd Mayan escape. But Hero Stick Craft Runner is different. It adds in unique elements to make a typical treasure temple run game an experience of ever challenging fun.
The game involves your protagonist, an evident parkour master performing feats like Wushu jumping. Unlike traditional grand run crazy games, you can control your player and make him move either forward or backward. You collect power ups which give you unique abilities like Wushu jumping and stick craft.
Wushu,kung fu,parkour
There are four unique abilities:
• Wood craft in which you build bridge or ledge to move across the terrain
• Tornado jump which makes you jump longer and higher to reach difficult places
• Butterfly jump which makes your runner light as a butterfly, almost as if flying in the air.
• Duck and roll so you can dodge incoming enemies and obstacles

You can gather each of the ability as a charged, limited use power. This adds a unique and challenging twist to the game. You don't just run on and on. You need to strategically navigate your Kung Fu runner through a maze of rocks, lava, meteorites, and let's not leave out the enemies. You can build a bridge to reach long away ledges or even use them as levers! There are several possibilities and each provides you with the chance to have fun in a new way. Playing this Wushu jumping, Parkour inspired game will definitely never bore you. In fact, you'll be inclined to come back for more.

Unique Features of the Game:
• A challenging terrain requiring puzzle solving skills and strategic movement
• Four unique abilities for scaling obstacles and enemies
• Hassle free interface with smooth playability
• A changing terrain from lava pits to temple ruins and snowy cliffs
• Fun, fun and more fun!
• And it's FREE!!
While the game is filled with fun, challenges and entertainment, be warned and watch out. 'Hero Stick Craft Runner' is HIGHLY addicting!
Wushu Kung Fu Stick Craft Runner 1.05 Update
-Fixed bug when pausing game and resuming
-Add In-App purchase for power-ups packs
-Fixed coins spawning bug
-Game balancing
More
More Information
In-App Purchases:

Beginner Pack $1.99

Survival Pack $2.99

Mega Pack $4.99

Remove Ads $0.99

More