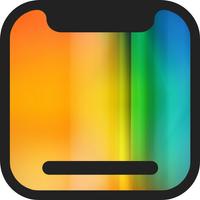 X Notch Remover for iPX
$0.99
X Notch Remover for iPX Description
How do that?

The app doesn't remove the notch per se, it just makes the notch invisible by placing a black bar across the tops of images that you must then assign to your Wallpapers in the iOS settings. Nevertheless, the end result looks like a traditional unibrow status bar, instead of the two brows currently found at the top of the iPhone X's home and lock screens.

# App changes your wallpaper to adjust for the notch.

P/S: This app was made for fun. Technology is awesome, lets share a smile.
X Notch Remover for iPX 1.0 Update