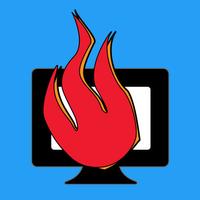 XScreenSaver
Free Get
Screenshots for iPhone
More Screenshots for iPad
XScreenSaver Description
The XScreenSaver application is a large collection of historic and educational graphics demos.

XScreenSaver is the standard screen saver collection shipped on most Linux and Unix systems. I released the first version in 1992. In 2006, I ported it to MacOS, and in 2012 I ported it to iOS.

This application is not a screen saver, of course, since iOS doesn't have those. But it does let you play with the hundreds of graphics demos that are a part of the XScreenSaver collection.
XScreenSaver 5.43 Update
New hacks "GravityWell" and "DeepStars".
"GLPlanet" now supports the Mercator projection.
"Bouncing Cow" has mathematically ideal cows (spherical, frictionless).
Foggy toasters.
"Unknown Pleasures" can now use an image file as a clip mask.
More